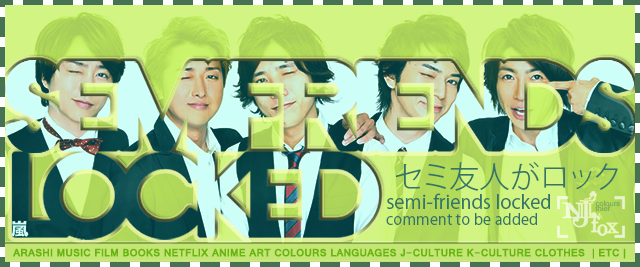 Hi, intrepid curious by-passer! This LJ is semi-locked. Personal journals about my life are restricted for friends' eyes
only
. Aside from some specific shares, everything is open to the public domain for non-commercial purposes to enjoy. This here place is just to store things I've created for fun and experimentation (copyrighted).
Mostly you will find here are fandom-centric stuff with some original pieces.
To shorten things up for now:
★ Arashi
owns
. Fan as of 2014
★
Ohno Satoshi 大野 智 is my captain & riiida.
★ I adore/ love each Arashi members including the staff (the latter something to do with my film degree)
★
Kang Dong-Won
and Song Kang Ho are my favourite Korean actors.
(
Collapse
)
All in all, this is just a general list and doesn't really cover me as a person. Still, feeling like we have somethings in common. Feel free to drop a hi ^^